Gen Xers Driving Multi-Generational Housing Trend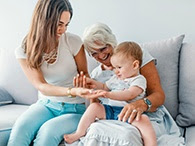 This Is Us. Jane the Virgin. Black-ish. What do they have in common? They are all family television programs that have members of multiple generations living under one roof. But the reality of multi-generational living is more than sitcom fodder.

According to the 2019 Home Buyer and Seller Generational Trends report by the National Association of REALTORS® (NAR), multi-generational housing continues to be a growing trend among homebuyers. This trend is driven largely by Gen Xers, who are the second-largest band of homebuyers today at 24%. Of that cohort, one in six purchased a multi-gen home, half of whom cited accommodating adult children as their reason for doing so.

When it comes to millennial buyers, nine percent purchased a multi-generational property they could share with aging parents, per the report.

Whether you're looking to accommodate aging parents or making room for your boomerang child, these tips will help you find the right place to make it work.

Look for a home that was built with multi-generational living in mind.
Schumacher Homes, Lennar, and Plantation Homes are just a few of the builders offering a multi-gen solution in a brand-new residence.

Tailor your home search.
If custom built multi-generational home isn't doable, look for a home that's easily convertible. A downstairs bedroom and bath is key for older residents, and an en suite bathroom is even better. A home with a basement or attic may seem like an ideal place to turn into a grandparent's haven, but stairs can be dangerous and obviously wouldn't work for a parent using a walker or wheelchair.

A property with a guesthouse or enough land on which to place a granny suite or tiny home is another option. Just make sure the land is zoned properly to accommodate this type of structure.

Make smart renovations.
Taking down walls to create an open floorplan is a smart move that can have a positive impact on your home's value and also make it more accessible for aging parents.

The National Association of Home Builders' (NAHB) Aging-In-Place Remodeling Checklist recommends a "5-foot by 5-foot clear/turn space in living area, kitchen, a bedroom, and a bathroom." They also suggest wide hallways that measure a minimum of 36-inches across, good lighting, and non-slip flooring.
6 Kitchen Design Trends Inspired by Restaurant Kitchens

Not all kitchen design trends stand the test of time, but a restaurant kitchen is meant to be as functional as possible for as long as possible. Taking a few cues from restaurant kitchens can help you create a residential kitchen that you'll be sure to love for years to come!



1. Forget the Island
A kitchen island allows for lots of prep space and storage but can also make even a large space seem cramped and crowded. A work table in place of the kitchen island still provides plenty of room to work, offers shelving underneath for storage, and can be moved easily when not in use.

2. Consider a Stainless Steel Backsplash
Stainless steel is durable, doesn't absorb microbes, and is fire-resistant, which is why it's long been a popular material for commercial kitchen backsplashes. It's also easy to clean and coordinates with most kitchen styles.

3. Hang Utensil Rods
Rarely do restaurant kitchens keep utensils in drawers, as this is a surefire way to create a cluttered, jumbled mess. A utensil rod or two will keep all your kitchen tools organized, in plain sight, and close at hand.

4. Install a Magnetic Knife Strip
Much like utensil rods, many commercial kitchens include magnetic strips along walls to hold chefs' knives. Storing knives on a magnetic wall strip reduces the risk of cutting yourself while rooting around in a drawer and also allows you to easily see each knife blade type and size. A magnetic knife strip also eliminates the need for a bulky knife block on the countertop.

5. Use Wire Shelving in Your Pantry
Wire shelving allows for air circulation around your stored foodstuffs, reducing damage from heat and humidity. Wire shelves also don't need cleaning as often as standard wood shelves.

6. Install an Open Shelf Over the Stovetop
Many commercial kitchens feature an open shelf or two over the stovetop, for holding pots and pans, spices, timers, and even a recipe or prep instructions. Consider asking your kitchen contractor about an open shelf over your new stovetop, for added convenience and to break up the look of a bare wall behind the stove.

Call me today for all your home selling and buying questions and for all your Real Estate needs! 630-479-4393